Armouring
Armouring is one of the eight Crafting Professions. It involves using refined Ingots and Paper along with certain Crafting Ingredients to craft Helmets and Chestplates. Armouring is performed at any of the Armouring Stations throughout the world.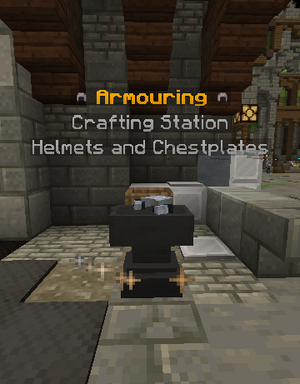 Helmets and Chestplates are equipment items that provide health, elemental defense, and identifications.
Without ingredients, crafting armour will result in a basic piece of armour that has no identifications at all and only provides health. Ingredients and Powders can be added to add identifications and elemental defense to the crafted item at the cost of its durability.
Using higher tier materials will increase the health and durability of the armour.
(Note: It does not matter which material is what tier: Tier 2 paper and Tier 1 ingots will have the same effect as Tier 1 paper and Tier 2 ingots.)
Material 1
Material 2
Health and Durability Increase
Tier 1

[

✫

✫✫

]

Tier 1

[

✫

✫✫

]

0% (Base health and durability)
Tier 1

[

✫

✫✫

]

Tier 2

[

✫✫

✫

]

+7.9% Health and Durability
Tier 2

[

✫✫

✫

]

Tier 2

[

✫✫

✫

]

+24.5% Health and Durability
Tier 2

[

✫✫

✫

]

Tier 3

[

✫✫✫

]

+30% Health and Durability
Tier 3

[

✫✫✫

]

Tier 3

[

✫✫✫

]

+40% Health and Durability
Level Unlocked
Item
Recipe
Level Options
Powder Slots

Armouring
Lv Min. 1


Helmet
1
Copper Ingot
2
Oak Paper
Lv. 1 to 3
Lv. 3 to 5
Lv. 5 to 7
Lv. 7 to 9
1


Chestplate
2
Copper Ingot
1
Oak Paper
Level Unlocked
Item
Recipe
Level Options
Powder Slots

Armouring
Lv Min. 10


Helmet
2
Granite Ingot
4
Birch Paper
Lv. 10 to 13
Lv. 13 to 15
Lv. 15 to 17
Lv. 17 to 19
1


Chestplate
4
Granite Ingot
2
Birch Paper
Level Unlocked
Item
Recipe
Level Options
Powder Slots

Armouring
Lv Min. 20


Helmet
2
Gold Ingot
4
Willow Paper
Lv. 20 to 23
Lv. 23 to 25
Lv. 25 to 27
Lv. 27 to 29
1


Chestplate
4
Gold Ingot
2
Willow Paper
Level Unlocked
Item
Recipe
Level Options
Powder Slots

Armouring
Lv Min. 30


Helmet
3
Sandstone Ingot
6
Acacia Paper
Lv. 30 to 33
Lv. 33 to 35
Lv. 35 to 37
Lv. 37 to 39
2


Chestplate
6
Sandstone Ingot
3
Acacia Paper
Level Unlocked
Item
Recipe
Level Options
Powder Slots

Armouring
Lv Min. 40


Helmet
3
Iron Ingot
6
Spruce Paper
Lv. 40 to 43
Lv. 43 to 45
Lv. 45 to 47
Lv. 47 to 49
2


Chestplate
6
Iron Ingot
3
Spruce Paper
Level Unlocked
Item
Recipe
Level Options
Powder Slots

Armouring
Lv Min. 50


Helmet
4
Silver Ingot
8
Jungle Paper
Lv. 50 to 53
Lv. 53 to 55
Lv. 55 to 57
Lv. 57 to 59
2


Chestplate
8
Silver Ingot
4
Jungle Paper
Level Unlocked
Item
Recipe
Level Options
Powder Slots

Armouring
Lv Min. 60


Helmet
4
Cobalt Ingot
8
Dark Paper
Lv. 60 to 63
Lv. 63 to 65
Lv. 65 to 67
Lv. 67 to 69
2


Chestplate
8
Cobalt Ingot
4
Dark Paper
Level Unlocked
Item
Recipe
Level Options
Powder Slots

Armouring
Lv Min. 70


Helmet
5
Kanderstone Ingot
10
Light Paper
Lv. 70 to 73
Lv. 73 to 75
Lv. 75 to 77
Lv. 77 to 79
3


Chestplate
10
Kanderstone Ingot
5
Light Paper
Level Unlocked
Item
Recipe
Level Options
Powder Slots

Armouring
Lv Min. 80


Helmet
5
Diamond Ingot
10
Pine Paper
Lv. 80 to 83
Lv. 83 to 85
Lv. 85 to 87
Lv. 87 to 89
3


Chestplate
10
Diamond Ingot
5
Pine Paper
Level Unlocked
Item
Recipe
Level Options
Powder Slots

Armouring
Lv Min. 90


Helmet
6
Molten Ingot
12
Avo Paper
Lv. 90 to 93
Lv. 93 to 95
Lv. 95 to 97
Lv. 97 to 99
3


Chestplate
12
Molten Ingot
6
Avo Paper
Level Unlocked
Item
Recipe
Level Options
Powder Slots

Armouring
Lv Min. 100


Helmet
6
Voidstone Ingot
12
Sky Paper
Lv. 100 to 103
3


Chestplate
12
Voidstone Ingot
6
Sky Paper
Level Unlocked
Item
Recipe
Level Options
Powder Slots

Armouring
Lv Min. 103


Helmet
6
Dernic Ingot
12
Dernic Paper
Lv. 103 to 105
3


Chestplate
12
Dernic Ingot
6
Dernic Paper